I thought I would put out a posting around my experiences of the VCAP5-DCD exam I sat yesterday and what I felt helped me in my preparations and what I plan to use to better my knowledge for my resitting.
Yep I am going to need to re-sit the exam as unfortunately I just failed the exam but I do feel that what I studied was extremely helpful as without having done it I wouldn't have been close so that is very positive and now i have a great idea of what I need to do in preparation before my retry.
The Resources I used this time
The resources I used for yesterdays attempt of the exam were quite extensive to say the least but I am learning design from the ground up almost as I have only been doing enterprise level designs for the past year having previously been a VMware Administrator. The resources I used are on my page here but I wanted to list out the exact ones and what i felt they helped me with and why I think they are essential for the exam:
I know this is going to be a strange one but it did really help me in my preparations and that is having studied for my VCAP5-DCA prior to doing this exam as it helped me learn the new technologies, how to physically create them and the level logical and physical designs have to be to allow the VMware administrator (if this is a different person) to build the solution
The VMware vSphere: Design Workshop [V5.0] was extremely beneficial and really gives you a great idea of what doing designs for a living is like but also how there are many different options for each solution. Unfortunately for the VCAP5-DCD exam there is only one way of doing something and that is the VMware recommended way and this is my first BIG piece of advice before doing the exam. Make sure you learn the VMware way of doing design as in the exam the way you think it should be done or have done it in the past may not be the VMware recommended way of doing it and it is therefore incorrect. Also the course is only three days so I would HIGHLY recommend trying to do all the lab work from the course at home and then make sure you go to your transcript under VMware learning, click next steps under the course name and then download the completed design scenarios that you followed during the course so you can learn how VMware would have built it.
Next piece of material I used was the VMware vSphere Design book from Scott Lowe,Forbes Guthrie and Maish Saidel-Keesing. The book was amazing and I would recommend it to no end to anyone doing the exam and anyone doing VMware designs in general as they cover everything and it is extensive to say the least. I did read the version 4 version as the version 5 is meant to be out within the next few months and it gave a really great covering of all the components as 85% of vSphere 5 is the same as vSphere 4 and most of the concepts are exactly the same
The vSphere 5 Clustering Tech Deepdive book by Frank Denneman and Duncan Epping was amazing in giving me a deep understanding of the vSphere 5 cluster, it's components and technologies and the advanced settings you can create and use for certain scenarios. This book is an absolute must for the exam and covers parts I haven't seen mentioned anywhere else. My recommendation on this book is read and understand and be able to apply EVERYTHING in this book prior to your exam.
As I mentioned I did my VCAP5-DCA prior to attempting this exam and therefore I used resources for that exam like the VMware vSphere 5 Training trainsignal videos by Elias Khnaser and David Davis and all the VMware vSphere 4 VCAP Training Package videos David did for the VCAP4-DCA exam.  These helped me build a solid understanding prior to the DCD exam as I believe how can you design something if you don't know how it works and how each part integrates.
Talking of Trainsignal videos a MASSIVE resource I used for the DCD was Scott Lowe's Designing VMware Infrastructure Trainsignal set of videos. These were amazing and Scott gives some brilliant descriptions and examples of what Risk,Assumption,Requirements and Constraints are and how to apply them. I personally battled with differentiating between Functional and Non-Functional requirements and Scott's videos helped with this as did an article that Victor Forde sent me when I asked if anyone could try help me clear up the definitive differences and Bas Raayman did a great posting asking these questions here . The videos don't just cover the terminology but cover every facet of designing a virtual infrastructure and how they are are holistically interconnected. I plan to re-watch a few of these videos and also the second last one where Scott brings all the pieces together to create a final design as I think this is very important for the exam and  real world designing
The APAC vBrownbags were another resource I used extensively and is something that helped loads in my preparations and understanding of certain things. The content covered in a number of the sessions were amazing and I took down loads of notes during them and made sure I watched them whenever I could including the gym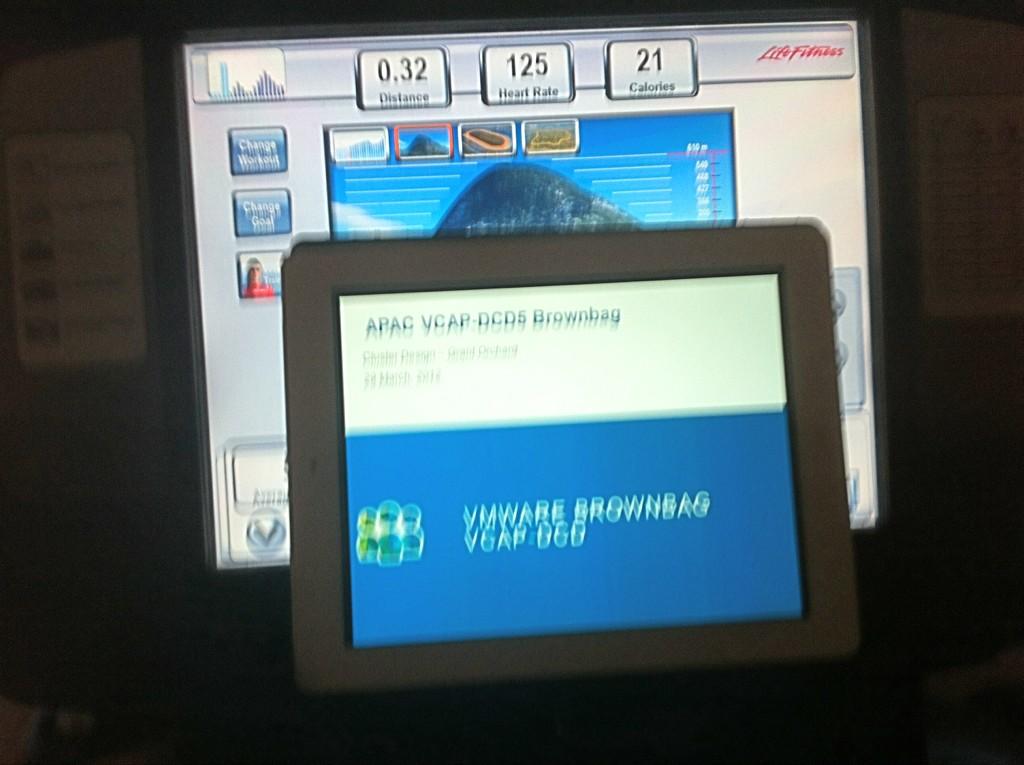 The DRBC Design – Disaster Recovery and Business Continuity Fundamentals course was another online course I did in my prep to fully understand DR and BC concepts but also how certain decisions impact how things are done. The course is free so I would highly recommend it.
The resources I will be using and re-using next time
The above resources were really great and all the notes I created from all of them will be used extensively again to try get everything into my mind.
The official VMware book Building a Virtual Datacenter will be a book I am planning to read in my aim of trying to get myself into the VMware mind-set of designing and what are the recommendations for every component. The book was given to me a while back so I am planning to start reading through it very soon
Harley Stagner and Sean Crookston's VMware press book Managing and Optimizing VMware vSphere Deployments is another book I am planning to read prior to my re-take as they have covered how to take your existing knowledge of all the components and apply it to a design as well as having done a mock design which I'm hoping I will learn loads from.
As I mentioned above I attended the design workshop VMware course and so I am planning on going through all the course notes and the lab work and actually trying to create every portion as I don't think there was near enough time in the workshop to be able to complete all the lab work. Also as I highlighted in red I was fortunate to notice (no one tells you these are available if you did the course) that the completed designs from the lab work have been done for you by VMware and therefore you can use these to see how VMware recommend doing them and thereby hopefully I will learn the VMware way of designing every portion.
Doing some mock designs of my own and then trying to apply VMware recommendations (notice I never say best practices as supposedly there are none but for the exam there has to be as only one answer is correct) and hopefully learn how to apply these for the Visio like questions
Talking of the Visio like questions, I am planning on trying to create my own mock questions while using these kinds of ideas so that i know how to create all portions super fast as the time frames in the exam are very tight.
Conclusion
I felt the exam is passable which is fairly comforting for me, the exam reminded me a lot of the Microsoft Design exams I did for my MCSE's but on steroids. As for when I am going to re-try the exam that is still something I need to work out as I was hoping to also get my VCP5-IaaS and thereby my VCP5-Cloud before the VCP5-Cloud exam is released and the upgrade path is gone. A lot of people said if you have been doing design for years then don't really bother studying and just go do the exam but I disagree massively on this as if you have been doing designs for years you know there are many many ways of building a solution but in the exam there is only the VMware way and so experience may work against you as maybe that isn't the VMware recommended way of doing it. Good luck to anyone doing the exam, I hope my thoughts above haven't stressed you out and maybe help you study places I missed or didn't know would need to and thereby you pass the exam
Gregg