VMworld kicked off formally today and there were whole bunch of announcements and some awesome sessions and demo's I was able to attend and blog about but firstly I would like to recap Saturday and Sunday's activities so if you just want to hear about today then skip the paragraphs below and go straight to the Monday/Today heading.
Saturday:
I purposely flew in on Friday fro the UK so that i could attend the VCDX workshop and then the VCDX Town hall afterwards. The VCDX workshop and town hall were hosted at the cosmopolitan hotel and the workshop started off early at 7:30 am with some breakfast/desert seeing as it was coffee and donuts. If you don;t know what the VCDX workshop is it is a workshop for those thinking of going for the VCDX soon and is aimed to give those aiming for it valuable information and advice around the whole process, what to do and not to do in your preparations and during the defence and also to clear up some possible misconceptions and ideally show that obtaining the VCDX is achievable with hard work and dedication. I've blogged about this achievability as well as my personal opinion of doing it for the "right" reasons here https://thesaffageek.co.uk/2017/02/17/why-do-you-want-the-vcdx-accreditation/ . It was really great to see that a very large amount of the people attending the workshop felt it was something they wanted to attempt and felt it was more of a realistic target after the workshop.
After this was the VCDX town hall which is for current VCDX to speak with the VCDX certification team, have a chance to hear from Pat Gelsigner the CEO of VMware and three of the VMware CTO's before some food and drinks. The town hall was really good and there were some very tough questions asked of the certification team around the direction of the program, how we could get the certification known more widely and aid those looking to obtain it. Chris Colotti wrote a really pointed but accurate posting around a fair few of the topics brought up by the existing VCDX as despite what many might think current VCDX do want more people to join the ranks. We then had the honour of Pat Gelsigner speaking to us and answering some of out questions. It was greatly appreciated that Pat would take time out of his very busy schedule to spend time with us and as always you could see his passion for technology shining through. Next was the CTO panel with Chris Wolf, Guido Appenzeller and Ray O'Farrell. The panel was brilliant and again the three CTO's were extremely interested to hear for the VCDX crowd and be open and honest with their future plans. Lastly was the drinks and food where we got to socialise which was really nice to chat and joke with fellow VCDX and learn what they are up to and doing.
Sunday:
Sunday is customarily when Partner exchange happened and this year was no different. Even though I work for a partner in Dell EMC I decided to instead attend and support the VMunderground and vBrownbag opening acts. The opening acts are a community event where a number of panels are run discussing various topics by the community for the community. I was very honoured to have been asked to be part of the second of the three panels of the day around How Failing Made Me Better. The panel was very enjoyable to be on and the advice given from all of the people on the panel seemed to be well taken by the crowd. As always the opening acts allowed me to also chat with others from the community some who i have known for years and others i have only met recently. It certainly helped that it was hosted at the beerhaus.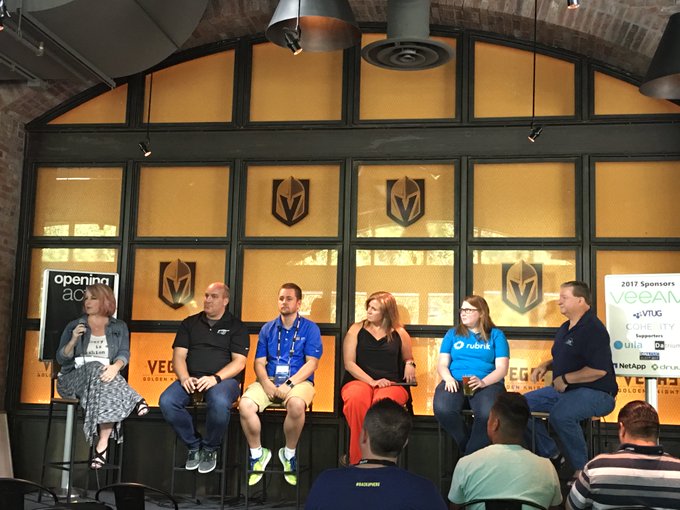 After opening acts I wandered off to the solutions exchange to talk to some vendors as well as grab some food and drinks that were on offer. The solutions exchange was buzzing as you would expect and I managed to get over to the Datrium booth and collect my vExpert gift of an arbuboy. I then made my way back to the new york new york hotel for the VMunderground party which was happening at the beerhaus where I got to chat to loads of the community and meet up with some old friends. The VMUnderground party is always one of my favourites due to it always being in a location where you can chat to people without it being too dark or too loud (yes i realise i sound like an old man). After VMUnderground i made my way back to my hotel due to my need to be on a work conference call this morning.
Monday/Today
The day started off with me ensuring all my scheduled blogs had posted as the NDA for a number of the announcements was 5am this morning. I then made my way to the convention centre and decided to watch the keynote from the VMVillage bloggers tables as I had a session straight after the keynote and I wanted to make sure I made it in adequate time. There were a number of announcements in the keynote but the ones that I feel were the best coincided with the ones i blogged about which were:
After the keynote I attended a VMware Design Studio UX design session around VMware Cloud on AWS. The feedback around the UX seemed to be really helpful to the team and one portion I found really great was the number of woman that were part of the various team from VMware which is brilliant and certainly inspiring for my daughters futures if they decide to pursue technology as a career.
Next I attended a session on VMware Cloud on AWS: Storage Deep Dive which was highly informative and gave some great overviews of not just VMC's usage of vSAN in the current offering but also some possible future plans around Disaster Recovery, usage of various storage providers technologies, options for backup via partners like Dell EMC and growth abilities of the solution both outwards and upwards. When the recordings of the sessions come out I highly recommend watching this one. I really like the way VMC is heading and I think it will be a brilliant offering and product.
After this I attended an invite only demo of VMware Cloud on AWS. The demo was highly informative and again I was left feeling really excited and enthused by the direction the offering is taking and the possibilities of it. When the partnership was first announced i was very unsure of how it would work and fit but I can certainly see the use cases and potential and now with VMware Cloud Services having been announced it means that you will be able to mange not just VMC but also Google Cloud Platform, Azure and your traditional vSphere environment in VMware Cloud Foundation.
The announcements have been really good and with today's now released GA of Pivotal Container Service there are very exciting things coming from VMworld from VMware and their eco-system of partners.
Gregg